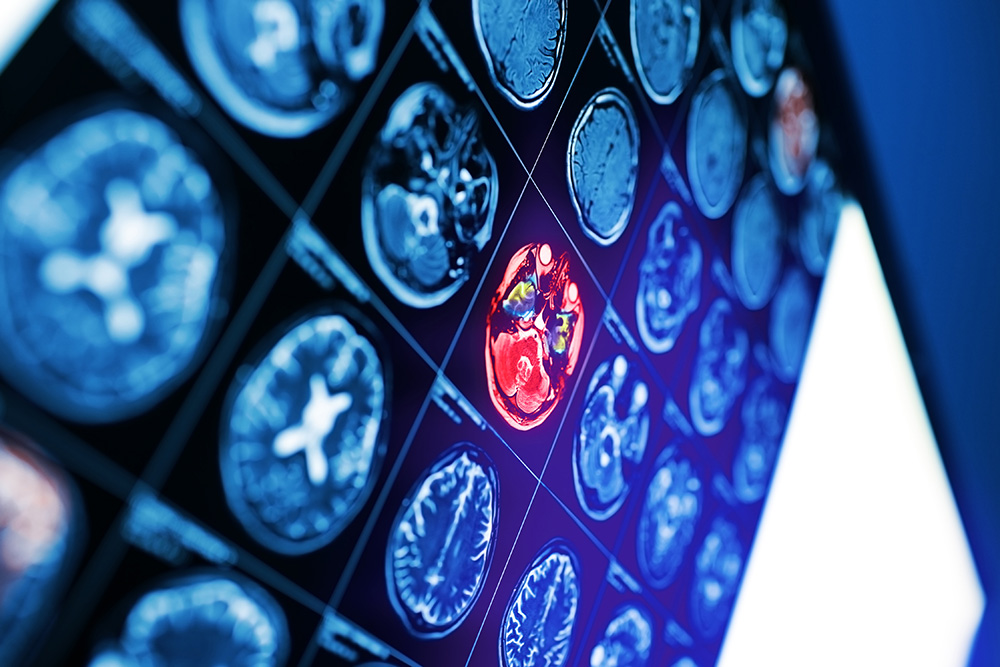 What is MRI?
Magnetic Resonance Imaging (MRI) is a non-invasive imaging technology that produces three dimensional detailed anatomical images. It is often used for disease detection, diagnosis, and treatment monitoring.
How does MRI work?
An MRI scanner has a large magnet that uses the interaction between a magnetic field, radio waves, sensors and a computer to create very detailed, precise images of the body.
What is MRI used for?
MRI scanners are particularly well suited to image the non-bony or soft tissues of the body. The brain, spinal cord and nerves, as well as muscles, ligaments, and tendons are seen much more clearly with MRI than with regular x-rays and CT; for this reason, MRI is often used to image knee and shoulder injuries.
Technical
Our MRI machine is the Philips Panorama HFO. Our HFO is the only truly open high field scanner in Canada. It uses a vertical magnetic field rather than a horizontal one as in a conventional MRI. The HFO also uses solenoid coils that surround the anatomy rather than surface coils in a conventional MRI, which are positioned adjacent to the anatomy. One of the greatest strengths of the HFO is in Musculoskeletal imaging. In order to achieve good image quality with MRI, the anatomy must be positioned in the center of the magnetic field, where the field is most homogeneous. This is called isocenter. The HFO table not only moves in and out of the scanner but also side to side which allows for isocentric imaging for all anatomy. The ability to image at isocenter in conjunction with the use of solenoid coils results in superb image quality.
Because the HFO is open on the sides it is also more accommodating for Bariatric and Claustrophobic patients. This also allows for a multitude of positioning possibilities that would not be possible with a conventional scanner.
Bore width is 160 cm, table width is 80 cm, the weight limit is 550 lbs.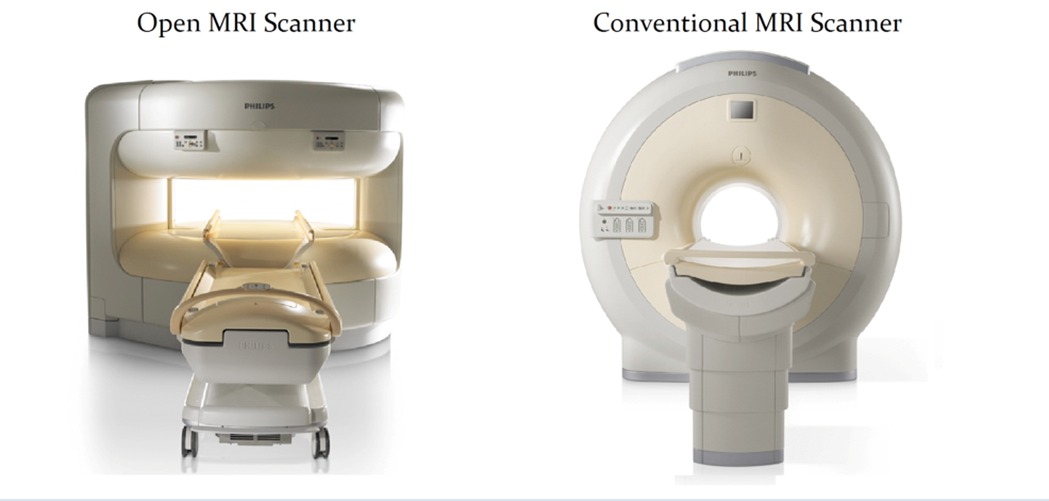 Patients
Open Skies MRI can perform all types of exams with the exception of Breast MRI.
The cost of each exam varies based upon what is requested by your physician. We will need to review your requisition and discuss the examination with you, before giving you a fee or scheduling your exam.
Preparation
Each type of exam has specific preparation requirements. Our staff will advise you all required preparation in advance of your exam.
Because we use a strong magnetic field, you will not be allowed to wear anything metallic during the exam, so it is best to leave watches, jewelry, or anything else containing metal at home.
What To Expect
A number of days prior to your appointment you will receive a phone call from our staff to notify you of the appointment and also to go through some preliminary safety screening questions. You will be asked to arrive 30 minutes before your appointment in order for the Technologist to go over the safety screening as well as answer any questions that you might have.Before you enter the scan room you will be asked to change into some metal-free clothes. As well, you must remove any metal or jewelry from your body. Your exam could last anywhere from 15-60 minutes depending on the area of interest and type of pathology in question. The magnet will produce very loud noises during your exam so you will be given some hearing protection, either ear plugs or headphones which can play music. Once the exam has been completed it will be sent to the MRI radiologist for review and reporting. This report will be sent to your physician within 3-5 business days.
Contraindications for MRI
Strong magnetic fields can be very dangerous if the proper precautions are not taken. Each person who enters the MRI suite is put through a screening process to ensure safety around the magnetic field. Some contraindications are listed below:
Absolute: Cardiac Pacemaker, External Pacer Wires, Mechanical Fusion Pump, Deep Brain Implant, Tissue Expanders.
Possible: Aneurysm Clip, Previous Gun Shot Wound, Pregnancy.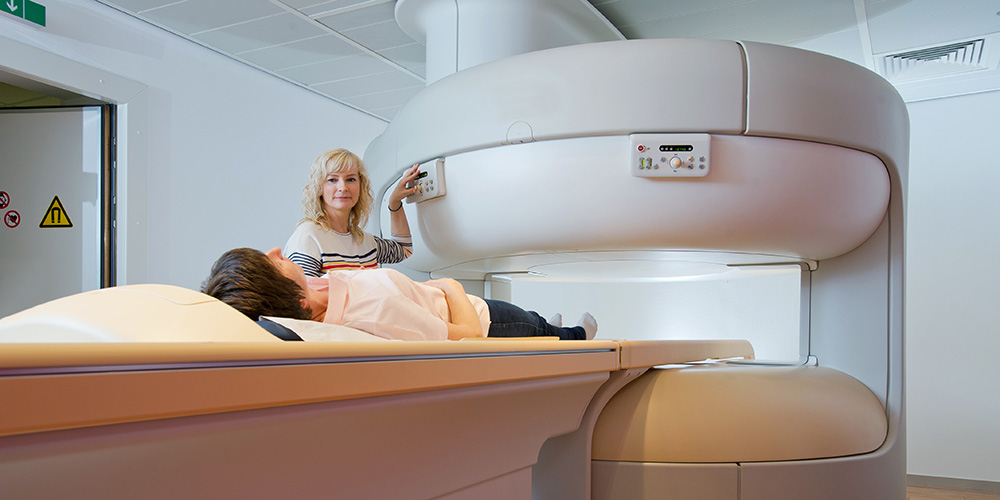 Can I book my own appointment?
Yes.  Prior to scheduling an appointment we will ask you to send a requisition to our office. After we have reviewed your doctor's request, we will call you to discuss the exam and at that time we will book an appointment.
Will someone remind me of my appointment?
Yes. You can receive text or phone call reminders.
Are you open evenings and weekends?
We are open Monday to Friday 8:00 a.m. to 5:00 p.m. and we are closed on statutory holidays.
When will I get my report?
Your report is sent to your referring physician in 3-5 business days.
Is parking available?
Free parking is available.
Where can I find preparation information?
Our office will also provide you with instructions prior to your exam.
How long will my exam take?
Exams can range from 15 minutes to 60 minutes depending on what has been requested.
Will I need a driver to drive me after the appointment?
If you require a mild sedative which is provided by your Dr. you will be instructed not to drive for 24 hours.
Can I eat and/or drink?
Unless the area being examined is the abdomen or pelvis there are no dietary restrictions.
What should I wear for the MRI?
We will provide you a medical gown.
Do I need a doctor's referral to come to your office?
When can I get in for an MRI?
Once we have received all the necessary information we will schedule you for the next appointment available. Typically appointments are available within 2 to 3 business days.
How much does an MRI cost?
Costs vary depending on what your physician has ordered. We will need to review the requisition and then provide you with the cost.
Some private insurance/employee benefit plans provide coverage for MRI exams.
If I have an artificial knee can I still have an MRI?
Yes, the metal used for joint replacements is non-ferrous and therefore the magnetic field will not cause any harm.
Are there any health concerns caused by MRI?
To date there are no known harmful effects cause by MRI however the possibility of injury exists if you have any metallic implants. We subject everyone to rigorous safety screening prior to entering the MRI suite in order to avoid injury.